Book Recommendations
Looking for your next book to read? You've come to the right place.
If you need help determining the next book you want to read, Decatur Public Library can help. Below are several resources to help find your next favorite book or to add your already extensive list.
You are always also welcome to ask our library staff for suggestions. Check out our staff bios to see if one of our staff has similar interests as you and shoot them an email asking for recommendations!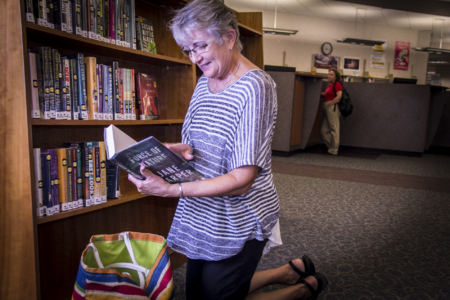 Check out the newest books and movies we have at the Decatur Public Library, and what is coming soon!
Bestseller List
The New York Times ranks the top books currently being sold and sorts them by genre, including fiction, non-fiction, and children's books.
Good Reads
Goodreads is the world's largest site for readers and book recommendations. With Good Reads you can:
See what books your friends are reading.
Track the books you're reading, have read, and want to read.
Check out your personalized book recommendations.
NoveList
Search this user-friendly database for book suggestions, reviews, annotations, and much more for over 120,000 fiction titles. There are two different databases: adults and grades K-8. It also includes other content of interest to fiction readers, such as author read-alikes, book discussion guides, BookTalks, and feature articles.
Interested in joining a book club?
The Decatur Public Library offers four different book clubs, and you can drop in any time!
Learn More →