cloudLibrary
Download e-books and audiobooks to your smartphone, computer or tablet. Temporary license though May 31.
Thanks to a temporary agreement, through May 31, 2020, all libraries in the Illinois Heartland system can check-out e-books and audiobooks from the cloudLibrary.

Get started with cloudLibraryGet started with cloudLibrary
Checkout Times & Limits
E-books and audiobooks – 21 days
Up to 5 items at a time
Getting Started
The cloudLibrary will work on just about any smartphone, tablet, e-reader, or PC or Mac computer. You can get started in one of two ways:
Download and install the cloudLibrary app from your device's app store. OR
Go to yourcloudlibrary.com. If you're working from a PC, Mac, or Kindle Fire, click on "get the app" and download and install the appropriate app for your device.
Note: For Kindle Fire tablets, follow the instructions on the cloudLibrary site to first set up your tablet, then download the app from their site.
Then
Select your country and state.
Select "Illinois Heartland Library System" on the "Your Library" list.
When prompted, enter your library card barcode number (without the spaces) and your PIN.
Borrowing
The cloudLibrary offers e-books and audiobooks, including titles for both children and adults. Items check out for 21 days. If no one else is on the waiting list for your item, you can renew it.
There are a limited number of copies of any title available, so if they are all out you will be able to place a hold, and see how long it will be before your turn comes.
Then you can borrow books in two different ways from the cloudLibrary:
Through the app. You can search for books by title, author, subject, or genre. Then check out AND click your item to download. Then you can read or listen through the app. OR
Through the library's online catalog. Be sure to log in to your account in the catalog before searching (with the same barcode and PIN).
Search the catalog for books as usual. If you include "cloudlibrary" (no space) in your keyword search, you will get only cloudLibrary items. Any items with the cloudLibrary logo (red CL in a cloud) qualify. If you've already installed the app, then the Check Out or Hold button will be available next to the item. Click, and it will automatically appear on your device's app if it's connected to WiFi.
You can install the app on multiple devices, and your books will sync between them, so you can pick up where you stopped on any other device.
Questions? Need help?
If you need help installing or using cloudLibrary, check their Frequently-Asked-Questions page or their How-To Videos. If you need help with your library card account, PIN, or other issues, send us a message via messenger, via email at info@decaturlibrary.org, or call us at 217-424-2900 during regular business hours.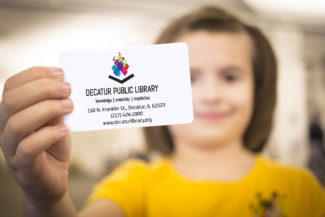 Need a library card?
If you are a Decatur resident, get a digital version online now!
Find Out More →