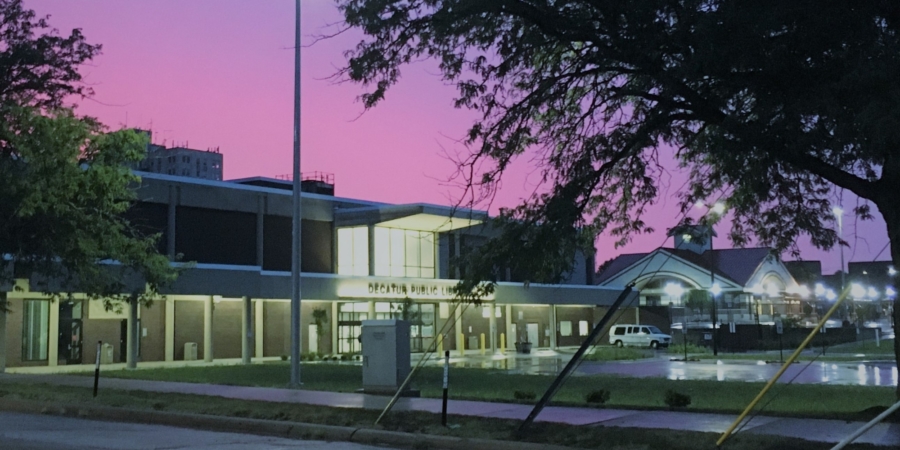 The 5 Library Languages: or choosing to love DPL everyday.
By Kristie L Smith Nikitin
"Love is a choice you make every day," according to Gary Chapman, PhD, author of the highly successful The 5 Love Languages series. Well, seriously Dr. Chapman, EVERY DAY? Even…when I bounce a check (don't worry dad – it's just a "for instance")? …A hurricane? …A contentious election? …A pandemic? …Are you sure? Choosing to be appreciative seems to get more difficult with each passing day in 2020 – I don't think I need to belabor that point. Loving every day is a decision made in the present, which brings us to the second library language.
How can a romance with Decatur Public Library be cultivated in the here and now? Last week's post covered the first library language – the past, and all the true stories, works of fiction, discoveries, movies and more, that history has given us and how and where to access this greatness at DPL. Libraries also talk "present"—new books, DVDs and a lot of information that can help us in our existing situation. It's no secret that 2020 is a sucker-punch in the street fight of life, but how can we best defend ourselves? The library offers a number of "weapons," if you will, tools to ease the wonkiness of the year.
These days parents and teachers are wearing multiple hats, and I had no idea that Decatur Public Library (or any public library) could be such a valuable partner. Whether you're working from home, trying to help the kiddos with school subjects, or just need something to keep them busy while finishing a proposal, the library has the in-person and online means to make your life easier. Parent/teacher book bundles – need I say more? Is your fifth grader looking for books about animal migration, or maybe you want books on emotions for your preschooler? Visit our website to place a request. The librarians will do all the work. Breeze in and pick up your order. It's that easy.
Mom and Dad, don't worry if you can't quite remember geometry, geography or geology. We have plenty of homeschool resources online and on the second floor. With a Decatur Public Library card, students of all ages have access to a service called tutor.com. Tutor.com assists with a variety of subjects, from math and writing to navigating a gap year. It even helps with job searches – whether looking for your first after school position, or the next rung on the corporate ladder. Hey, if I hadn't already found my dream job, the library is the first place I would search.
If you don't have children, or they have long since flown the coop, the library has a present for you, too. Use the databases to pick up a new hobby, explore music, or read magazines. Thumbing through a monthly publication has become passé, but the glossy paper, the perfectly-staged photos, the pithy articles are transported into the digital age, and found on Flipster. Peruse current issues of magazines like Nation, Us, People, Fortune, Consumer Reports and others. One of the coolest things I've learned about the library is the existence of new releases! We have books and DVDs that are hot off the press – yes – new releases to occupy a few minutes of down time. Call or email ahead and we will have them waiting for you, or use our curbside pickup service to minimize exposure. Of course, we have your favorite classics too. If we don't have it we can get it from another library in our area. Imagine how much fun it is to see Brat Pack flicks through new eyes.
O.K. Dr. Chapman, we'll do it your way. We will live in the current and choose to love DPL every day. Why not? When parent/teacher resources, book bundles, homeschool materials, online tutoring, new releases and old school favorites are available by dropping by, or using curbside pickup—the rest of the year is going to be a snap. The library language of the present is alive and well, in spite of this thing we call 2020. Want to know what the future will bring? Check out the next blog post.
Check out what you missed in previous posts