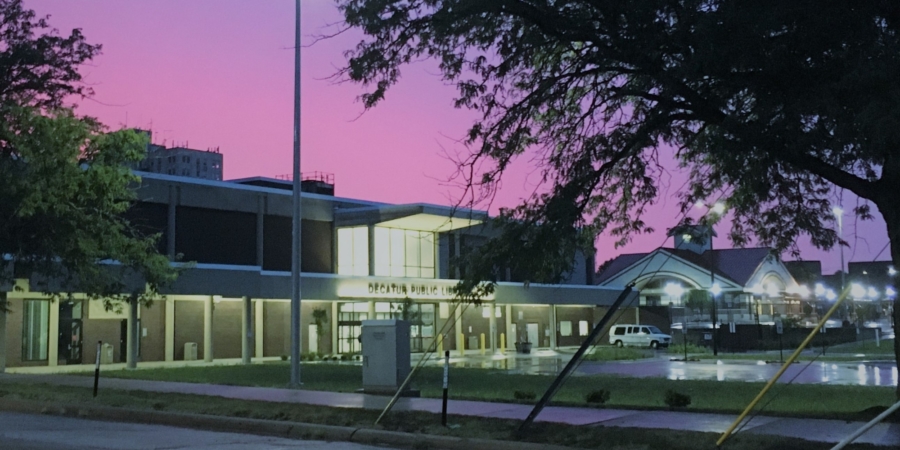 The 5 Library Languages: The future is now
By Kristie L Smith Nikitin
When I was seven, I had a career plan and it didn't involve shut-downs and working from home, but here I sit on my couch, writing a blog post and trying not to think about the cookies calling my name from the kitchen. As ringmasters have said for over a century, "the show must go on" and that's why the staff of your Decatur Public Library continues to work for you, even though our building is closed. The doors are locked for now, but we are answering the phones, replying to your questions and implementing ways to continue to serve patrons.
My thought at seven was to be a veterinarian. From the moment we took Fluffy for vaccinations, flea dip, ear mite eradication, neutering and declawing (don't judge – it was the 70s), I knew animal doctor was my purpose. My brother – ten years my senior – wanted to be a lawyer. So, that's when I thought lawyer was the way to go. Before long I was the only twelve-year-old in the subdivision with a subscription to Brides magazine, because I wanted to be Vera Wang, before being Vera Wang was cool.
Another couple of years and I would circle back to veterinarian, after visions of a host of other mostly unobtainable options wafted through my dreams. What did I end up becoming? Exactly what I wanted to be. The point is that life is uncertain and it changes as often as a child changes her mind. One minute we are chit-chatting at the water cooler and the next minute we are telecommuting. According to Gary Chapman, PhD, in his book The Five Love Languages: Singles Edition, "Love doesn't erase the past, but it makes the future different." So, as I grow my relationship with knowledge, I might change where I'm heading, but I'm always the little girl who wanted to be a veterinarian-lawyer-football coach-super model-writer on her way to working at Decatur Public Library. As humans, we don't stay the same our whole lives. Using all available resources is the impetus for future being the third library language.
Of course, Decatur Public Library has books, DVDs and access to EVERYTHING digital, to shape the time between now and your golden years. Are you looking for ways to get ahead and create a strategy for retirement? Sign up for a Gale Course on personal finance and investing. Schedule a family vacation by checking out A to Z World Travel, or discover your next favorite Sunday dinner at A to Z World Food. Look for a new position, learn Spanish, or a new computer program—we have a digital source for that. Take up exercise, adopt a healthy lifestyle, remodel your home – discover Hoopla, available online and Lonely Planet travel books available on our shelves. You don't need a crystal ball to see the future, just a Decatur Public Library card.
Don't worry if you don't have a computer or the Internet, we do! As we continue to roll with the changes, Decatur Public Library has come up with safe ways for patrons to use our services, including Curbside Pick-up and designated time on our public computers. We offer computer time in one-hour increments to keep everyone safe. Patrons may make an appointment to come in and use the Internet. Masks are required and there are rules to follow, but appointments may be scheduled by calling 217-421-9700. Click here for more information.
It's up to you where you want your future to go, and Decatur Public Library can help you get there. It's as easy as mastering the third library language. Next time, read about library language number four – community.
Check out what you missed in previous posts