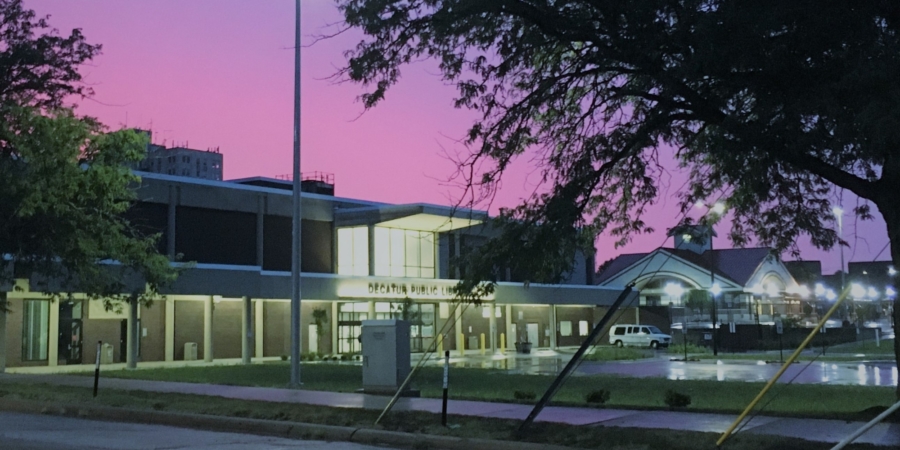 The 5 Library Languages: Community
By Kristie L Smith Nikitin
I must start this correspondence with an apology. There's been far more time between posts than I intended. There was time off to observe Christmas, then the ceremonial ousting of 2020 and the welcoming of 2021 -- with the longest most uncomfortable "Kristie hug" there ever was. (I'm a hugger. I hug hard and long and the recipient never doubts they've been hugged when I'm through with them.) But to be transparent, I've had a bit of writer's block. Turns out, it's really hard to write about "community" when there isn't much "communing" going on.
With the doors of Decatur Public Library's physical building locked to patrons for the last two months, one aspect of our community has gone dark. Though we have an online community, and do our best to craft opportunities to come together via Zoom and Facebook, sadly, it's not the same. As we continue to finesse and manipulate our programs to be socially distant and safe, the supporting details of my thesis tend to crumble —but I digress…
Prior to 2020, if you spent a lot of time at 130 N. Franklin Street, it may have been your "third space." We think of home as our first, work as our second and many of us have another area where we congregate. Sometimes it's the gym, a coffee shop, a shopping mall, church, perhaps the library. Wherever you "hang," that's a community. Community refers to not only a place for THE community (Decatur) to meet, but a community (a group) to form.
DPL, like libraries all over the country, taps into the community in many ways. For instance, many of those born in Decatur after 1986 may have participated in a program in which DPL partners with Baby TALK. The library staff on the children's floor takes pictures of all newborns and toddlers on their first visit to the library, and even gives the youngster a book on his or her first birthday. This program creates an environment for staff and patrons to begin building a life-long relationship with books, reading and knowledge. We also partner with other organizations in central Illinois.
We have a number of book clubs that have morphed into communities, as well. Are you an artsy sort? Then be part of our Take & Make craft community. Get all the supplies, plus instructions – for free – in a handy to-go kit. In the past, DPL has partnered with Real Talk On Race (RToR) twice a month. RToR brought Decatur together over the topic of race to discuss ways in which Decaturites can make lasting connections in society through meaningful conversations. Decatur Public Library also offers a variety of programs that bring communities together – topics range from politics, to seasonal events and more. Need a place for your organization or group to meet? We even have meeting rooms to rent (when we can do so again safely).
While the library patrons form a community, we are part of the Decatur community at large. Community is a very good thing. "Something in our nature cries out to be loved by another. Isolation is devastating to the human psyche. That is why solitary confinement is considered the cruelest of punishments."― Gary Chapman, The Five Love Languages: The Secret to Love that Lasts.
Check out what you missed in previous posts