Electronic Self-Check System
The Decatur Public Library is excited to offer its patrons a fast and convenient way to borrow materials!
Self-Check Machines

The library purchased three self-check machines, two for the first floor and one for the second floor, as an alternate to the checkout at the circulation counters.
There are two check in machines, one outside of the library near the entrance and one in the lobby.
Check-Out Process
Touch the screen for "Check Out".
Scan your Patron ID, 14-digit barcode under the red laser line. OR choose to enter the # manually.
Once the system has accessed your account, place all items on the table beneath the green light. Watch them be checked out automatically upon the screen. Let them sit on the pad for several seconds to ensure they are desensitized. We wouldn't want the gate alarms to go off.
When done, choose to print or email receipt - it shows all of the items checked out and when they are due.
Check-In Process
At the exterior machine only, first push the silver circular button.
If the light is showing green, place one book at a time on the table. The book will be pulled and and the light will turn red.
Once the changes from red back to green, another book can be checked in.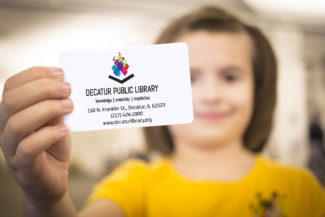 Need a library card?
If you are a Decatur resident, get a digital version online now!
Find Out More →