READiculous, JR.
Kids 10-14 years old are welcome to sign up for this creative dramatics theater program!
Date
February 19, 2019
4:00pm - 5:00pm
Location
Children's Auditorium

---
Details
READiculous, JR is a reader's theater/creative dramatics program for kids 10-14 years old led by READiculous' Ms. Susan and Ms. Alissa. READiculous, JR promotes self-expression, critical thinking, creativity and team work. The program will include theatre games, improvisation exercises, characterization techniques, literary interpretation and more!
To sign up, stop by the Children's Desk or call the Children's Desk at 217-424-2900, ext. 5.
Program supported with help from the Friends of Decatur Public Library.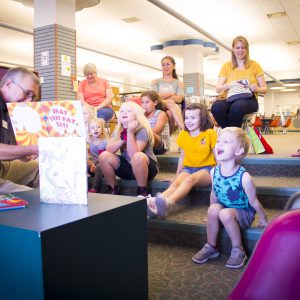 Children's Section
Our children's section is a great place to keep kids busy and meet some new friends!
Learn More →