Hoopla for Kids
You can download eBooks, audiobooks, movies and music to your device through Hoopla for Kids.
Decatur Public Library card-holders can instantly explore, borrow and enjoy dynamic content on their smartphones, tablets and PCs, 24/7. Need recommendations? Check out our lists of great eBooks and audiobooks for kids available on hoopla!

Log in to HooplaLog in to Hoopla
Borrowing
With your Decatur Public Library card, you have 14 Instant Borrows per month and 10 Flex Borrows. What's the difference?
Instant Borrows-- Instant Borrow titles (marked by the lightning bolt icon) are always available for immediate check-out. You can check out 14 per calendar month, and the month resets on the first of each month. Items cannot be renewed, but you may re-borrow. Music titles may only be borrowed twice during the month.
Flex Borrows -- You can borrow up to 10 Flex titles (marked by the circular arrows icon) at a time. You can get another Flex Borrow by returning a Flex title you have checked out. If no copies of a Flex title we own are presently available, you can place a Hold to reserve your place in line.
BingePasses -- BingePasses are a special kind of Instant Borrow. With a single borrow, you can access an entire collection or set of resources for 7 days.
Check our detailed listing of all the children's BingePass collections. or view them them directly on hoopla.

Back in February of 2023, hoopla again offers Bonus Borrows. These are instant borrows that do not count as part of your 14 per month. Click to see all the Children's Bonus Borrow titles available.
Checkout Times
eBooks, Audiobooks, and Comics – 21 days
Music – 7 days
Movies/Television Shows – 3 days
BingePasses (magazines, Great Courses, documentaries, Hellosaurus, kids book collections) -- 7 days

Downloading the App
For Nook tablets, Android tablets (including Kindle Fire) and phones, iPads, and iPhones, follow these steps:
Go to your device's App Store, and install hoopla Digital.
Open the app and choose "sign up" to get started. If you allow the app to access your location, Decatur Public Library will be listed in "Nearby Libraries," or you can search for your library. Enter your email address and create a password for hoopla. Then enter your DPL library card number and PIN.
You can search for eBooks, digital audiobooks, movies/television shows, and music by title, author, or keyword in the search box, or just browse through hoopla's established categories. Click "Kids" to limit your search to just children's items. Click on the cover for more information about the item or to borrow.
Once you've chosen an item, click "Borrow." You will have the option to read/play online or download.
You can see the items you have borrowed under "My hoopla." Tap on the item you wish to read/play, and then click to start or resume. The selection should pick up from where you last left off. You an also see when a title is going to return automatically, or return the item from this screen.
Note: Since hoopla is an app-based platform, it does not work with e-readers like Kindle Paperwhite or Oasis, or Barnes & Noble Nook Glowlight.
Tutorials
If you want to see all that Hoopla has to offer, check out Hoopla's YouTube page or browse our tutorials.
Support
If you need help using Hoopla, please email us at info@decaturlibrary.org, or message us via the library's Facebook page. You can also visit Hoopla's help section.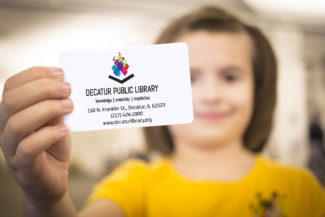 Need a library card?
If you are a Decatur resident, get a digital version online now!
Find Out More →