Lesson Planning
Let the Decatur Public Library help you with your time consuming lesson planning.
The Decatur Public Library has many tools for teachers to help make lesson plans go a little smoother.
Lesson Plans & Activities
A to Z Maps Online
This database offers maps throughout the world including historical maps, climate maps, and even maps from NASA! In addition, they offer:
Flags of the world
Interactive country labeling quiz called GeoFindIt!
Geography lesson plans with materials that can be downloaded/printed
Geography crossword puzzles that can be completed online or downloaded/printed
Log in to A-Z Maps OnlineLog in to A-Z Maps Online
A to Z World Culture
AtoZ World Culture is the world's most comprehensive collection of country culture articles for 175 countries. Fun lesson plans for grades 7-12 are available covering language arts, social studies, and related disciplines.
Log in to A-Z World CultureLog in to A-Z World Culture
World Book
World Book, Inc. is a leading publisher of authoritative, age-appropriate, and reliable educational materials for children. World Book can be accessed online and is broken up into four divisions:
World Book Kids - Offers fun interactive education for kids including pictures and videos, animals, crafts, puzzles, games, important people, geography, science, and a dictionary. The activity section also has a grownups section which includes lesson plans and materials for teachers.
World Book Student - This is a great resource for older students who need to research any topic. In addition, at the top right, there is a link called Educator Tools with a variety of resources for teachers from lesson plans to graphic organizers to webquests.
World Book Timelines - Find interactive timelines of places, people, literature, science, sports, history, and more.
Enciclopedia Estudiantil Hallazgos - For those who speak Spanish or are taking a Spanish class, this is an outstanding database.
Log in to World BookLog in to World Book
Crosswords
Several of our databases offer interactive and/or printable crossword puzzles:
Online Quizzes
Test your students knowledge of various topics through these great databases' interactive quizzes:
Timeline Creator
Did you know students can develop their own timeline online for FREE? World Book Timelines allows timelines to be developed, customized, saved, and shared via Google Classroom.
Science Projects
World Book Kids teaches kids how to do science projects and provides a wide variety of topics along with instructions to conduct their experiment.
Foreign Languages
With 71 languages to learn, Mango can give you the tools to help teach your students a foreign language. Mango also has many kid friendly movies in various languages to help support your curriculum.
Topic Finder
This outstanding, interactive tool can be used to help you brainstorm! If you have a topic in mind, put it in the Topic Finder and you can dig for the material you are looking for or just give you more specific ideas for projects, lesson planning, and more! To use the Topic Finder, visit our Gale Database and enter your library barcode number.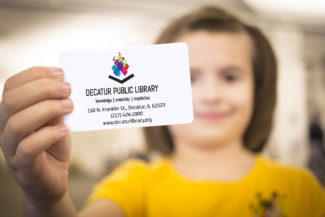 Need a library card?
If you are a Decatur resident, get a digital version online now!
Find Out More →