Library on the Go for Kids
Powered by OverDrive, Library on the Go brings eBooks and audiobooks to your tablet, smartphone, or computer.
With Library on the Go, powered by OverDrive, you can get a wealth of kids eBooks and audiobooks on your computer, phone, or tablet in one of several ways. Need some recommendations? Check our lists of great eBooks and audiobooks for kids available through Library on the Go!
Access Library on the Go via the web, Amazon Kindle, or the new Libby app (available in the Google Play or App Store).

Access Library on the GoAccess Library on the Go
Borrowing
Patrons can download as many titles as they'd like. With popular titles you may sometimes have to get on a waiting list, and then be notified when your title is available.
Checkout Times
Materials can be checked out for 7 or 14 days.
Libby App
Instantly borrow thousands of ebooks and audiobooks with the Libby app through Google Play or iTunes Store.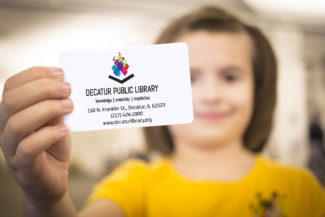 Need a library card?
If you are a Decatur resident, get a digital version online now!
Find Out More →