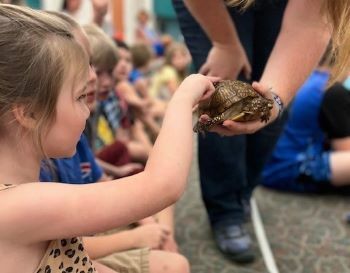 Exploring Nature with the Rock Springs Center
Get up close with frogs, snakes & turtles!
Do your kids love to explore the natural world? Then these programs are perfect to spark their interest! Each is presented by staff from the Rock Springs Center of the Macon County Conservation District, and will take place in the Children's Auditorium upstairs. Kids will learn, and get to observe and touch live animals.
Space is limited for each, so advance registration is required. If program registration is full, you can sign up to get on the Waiting List.

If you register and find you cannot attend, please let us know as soon as possible so we can open your spot for a child on the waiting list. Call the Children's Desk at 217-424-2900 ext. 5 or email childrens@decaturlibrary.org.

Click on the program date to register. (Registration opens May 15.) Note that the morning programs will be especially geared to preschoolers, and the afternoon to school-aged kids.
Thanks to the Friends of the Decatur Public Library for sponsoring these programs!
Frog Music -- Wednesday, July 19, 10 a.m. OR 2 p.m.

Kids will meet live amphibians, learn about frogs and toads, and the calls or songs of species found in central Illinois. The program will be presented twice -- please register for just one. Click the date to register:
Snake & Turtle Show -- Wednesday, July 26, 10 a.m. or 2 p.m.

Kids will meet live snakes and turtles as they learn about the nature and value of these creatures. The program will be presented twice -- please register for just one. Click the date to register: